BRISIGHELLA GUIDED TOURS
Half or full day guided tours in Emilia-Romagna and Tuscany.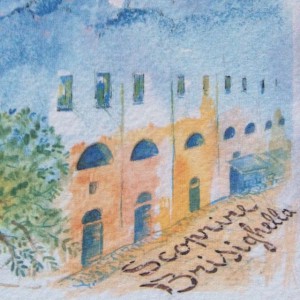 Silvia +39 370 3000876 – silviamordini1@libero.it
Italian and English
Claudia +39 338 1067972 – claudia_fabbri@libero.it
Italian, English, French and German
Maria Paolina +39 334 7706255 – mariapaolinag@virgilio.it
Italian, English, French and Spanish
SIGHTSEEING TOURS, SOME PROPOSAL
Sightseeing tours, in and around Brisighella, discover unique sides of the Italian cultural heritage, its regional parks, slow food and wine and sport activities.
The activities suggested include: Italian language courses, cookery lessons, Italian food and wine tastings, tours of the Emilia-Romagna Regional Park "Vena del Gesso", sightseeing visits in our medieval town centre, mountain bike and Nordic walking excursions.
Friendly local staff is directly engaged in the activities suggested giving the guests the chance to get under the skin of the small "medieval borgo". The guests can enjoy the pretty Italian lifestyle in the heart of Italy through plenty of different experiences.
Tourist Office: +39 0544 81166 – iat.brisighella@racine.ra.it
WINE TASTING AND RELAX
# winery visit, wine tasting, relax by the swimming pool
A choice of wineries in Brisighella will offer you the chance to taste their wines paired with some little local treats, then to enjoy the rest of the day by their swimming pool relaxing and sunbathing in one of the most beautiful parts of Italy.
Duration: half day
Includes: food and wine tasting, swimming pool service
FULL-DAY WINE TOUR
# three-wineries visit, lunch in a traditional agriturismo, local expert guide, swimming pool
Take a full-day tour that introduces you to the great wines of Italy's Romagna region, travelling around wineries by comfortable minibus and with a local expert guide. This is a tour for wine and food lovers wishing to get off the beaten tracks and experience "Romagna" culture and traditions. You will taste different types of wine at three fine wineries in Brisighella. After your first visit you'll enjoy a delicious lunch at an agriturismo, savouring typical local dishes, followed by a few relaxing moments at the swimming pool before leaving for the two other wineries. At every visit you'll share our wine producers' passion while tasting wines such as Sangiovese and Albana in their many versions.
Duration: full day
Includes: wine-tasting, transport, tour leader and lunch
ITALIAN COOKERY LESSON
# cookery lesson, traditional Italian dinner
A cookery lesson to help you prepare local traditional food assisted by an experienced cook before enjoying the dinner in a beautiful 18th century villa in Brisighella, also famous for its production of great cheeses. You will also have the opportunity to taste different specialities and local regional wines. You'll learn how to make fresh egg pasta from scratch, working the dough with a rolling pin on a wooden board, and the traditional sauce for homemade pasta, "ragù", a meat sauce made with pork, chicken, or beef fried with a mix of vegetables including celery, carrots and onions, and stewed with tomato sauce.
Duration: half day
Includes: lesson and dinner
ITALIAN LANGUAGE COURSES
# introduction to Italian language or advanced course
This mini course is designed specifically for foreigners who wish to enjoy a short trip to Italy and just learn some basic survival phrases in the minimum possible time. The course offers a number of easy travel phrases and words that will help the visitor both to make himself/herself understood to native Italian speakers and to understand essential Italian expressions, thus feeling more at ease in our country. For tourists just stopping overnight a three-hour option can also be offered. Knowing a few essential phrases can take you a long way and make your journey more enjoyable.
Includes: lesson
TANACCIA CAVE VISIT
# guided tour of the cave with an expert tour guide, equipment included
Take a guided tour of the cave with an expert guide for about 2 hours. The hills of Romagna are crossed by a spectacular grey-silvery ridge suddenly interrupting the gentle silhouette of the hills and giving a unique aspect to the landscape. The area is characterized by particular karst morphologies including several caves. "Tanaccia" is a great example of them. All the equipment (helmet and suit) is included apart from boots.
Duration: 2 hours
Includes: guide, visit and equipment
VISIT OF THE APENNINES NATURAL PARK
# guided tour of two caves with expert tour guide, natural park sightseeing, lunch included
Enjoy a walking tour that will take you around the Regional Park "Vena del Gesso" starting from the centre of Brisighella, at the foot of the park. The itinerary includes two caves (Grotta Tanaccia and Cava Marana), an archaeological site, the Visitor Centre and an open air geological museum. You will go past the Venetian Fortress before arriving at the first stop including the guided visits of "Tanaccia", around 2 hours (all the equipment is included apart from boots), and the nearby artificial cave resulting from the local past gipsum extractions. You will then walk up to the Visitor Centre where you will be served lunch and will also have time to relax. The tour walking time will be around 2,5h altogether. A local expert will guide you through.
Duration: full day
Includes: tour guide, lunch, cave visit and equipment
MOUNTAIN BIKE GUIDED TOUR
# mtb expert tour guide, mountain bike included, visit of the regional park
Hire a mountain bike and discover the extraordinary natural beauties surrounding the ancient "borgo", or experience the charm of a climb to the famous "Tre Colli", the three rocky hills overlooking Brisighella. Assisted by an experienced guide you can ride even further, along the slopes of the Regional Park, or reach Tuscany just a few kilometres away. Alternatively, you can head to Faenza, the town famous for its artistic ceramics. The excursions proposed are perfect for families and groups and even for expert riders. With the guided tour solution each rider will be offered a tailor-made excursion following personal requirements.
Duration: half or full-day
Includes: mountain-bike, guide, lunch if required
NORDIC WALKING COURSE
# course with nordic walking instructor, walking tour, lunch on request
Brisighella is becoming very popular among Nordic Walking lovers, therefore we have decided to offer our guests the unique chance to explore our beautiful landscape while learning how to practise Nordic Walking. A qualified teacher will be at your side for the entire walk – approximately three hours in the morning when you will learn the technique, followed by lunch, and then 3 more hours in the afternoon practising along a path that will allow you to enjoy the lovely views around Brisighella.
Duration: full day
Includes: Nordic walking sticks, teacher, lunch if is required
GUIDED TOUR OF BRISIGHELLA WITH LOCAL GUIDE
# walking guided tour of the medieval town, visit of an Italian food shop
Sightseeing tour with an official local guide that will take you to the most interesting sites, in and around Brisighella. A chilly glass of local wine will be waiting for you at the end of the itinerary as a thank you for visiting one of the most beautiful small historical towns in Italy.
Duration: 3 hours
Includes: guided tour and "aperitivo"
DISCOVER THE VARIETIS OF FORGOTTEN FRUITS
# food taste, walking tour around the fields, local expert
Find out the forgotten fruits of our land that a few passionate farmers have reintroduced into our cuisine. Taste the fruits direct from the trees to savour a range of sweet and sour varieties grown on the Apennine hills, according to the season. You will also be shown how such fruits were used to make jams, preserves, and more. A visit to a medieval watchtower will complete your experience before finally enjoying locally-produced food and wine specialities.
Duration: half day
Includes: visit, tour leader and dinner
________________________________________
Tourist Office: +39 0544 81166 – iat.brisighella@racine.ra.it